1968 Gold Nugget Special Mustang (aka Golden Nugget Mustang)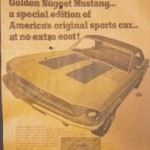 Limited edition Mustangs were never more plentiful than in 1967-68. Between factory created regional specials and dealer created oddities, the Mustang buyer of the late 60's had some interesting choices.
The 1968 Gold Nugget Special (also called Golden Nugget) was primarily a special paint color; Sunlit Gold with a black vinyl roof, black-out hood and black striping. The paint code was Y5 and the DSO is 74-1111, indicating Seattle and then 1111 for special order. There's rumor that these Gold Nugget Specials could also be painted other colors, as indicated by the window sticker below showing Corporate Yellow. However, this particular window sticker is a reproduction, not an original, so the facts aren't 100% conclusive on the issue of custom special paint. Note the newspaper ad below also talks about a dash plaque with the customer's name. Talk about a one-off Mustang!
A newspaper ad for the Gold Nugget Special reads as follows:
Only 525 people in the Northwest will be driving this Golden Nugget Mustang...a special edition of America's original sports car...at no extra cost!

Exclusive for this area only! Specially ordered, specially painted Mustangs, each with a golden plaque for the dash panel bearing the customer's name. Sunlit Gold color, with black vinyl top, black hood panels, black stripe, whitewalls, wheel covers. Plus all the better ideas that make Mustang America's favorite, most imitated sports car. More Mustang than ever for '68"
Although the vintage ad states 525 were built, subsequent research by Marti Auto Works shows 481 according to Ford build records.
Identification: Like many of the special paint Specials, the 6 digit DSO is the key to identifying a Gold Nugget Special. Look for DSO of 74-1111 (74 = Seattle DSO and 1111 = special order) Production dates have also been narrowed down to Jan - Feb of 1968.
Window sticker showing Corporate Yellow paint instead of Sunlit Gold. Note that this is a reproduction sticker though, not a Ford original.