Project Mustangs for Sale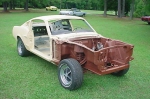 Here in the
Project Mustangs
section you'll find some great deals on Mustang project cars for sale, but they aren't for the faint of heart. These treasures range from unfinished projects just needing a bit of TLC, to full on basket cases missing almost everything. Be prepared for some major work on these diamonds in the rough; rust buckets, salvage titles, accident victims or parts vehicles. But if you've got the passion, the skill and the patience one of these could be your dream Mustang!
If you're in the market for project Mustangs for sale be sure to check out the AllStang Blog posts on
How to spot rust
and
How to Transport your new Mustang

.
If you just can't get enough old Mustangs rusting away, check out
RustingMuscleCars.com
for great
American Muscle Cars
just waiting to be restored.
Salvage Titles - What you need to know
Some of the project Mustangs for sale may have salvage titles. These may be tricky to register and license depending on your state, so a call to your local Department of Motor Vehicles is advised before buying a Salvage titled Mustang.
A "
Salvage
" title means the vehicle title has a note showing it's been damaged. The amount of damage to trigger a Salvage title varies, but typically it's in excess of 70% of the market value before the accident. This can happen when a car is considered totaled by the insurance company because the cost to fix is too high. The insurance company will total it, but allow the owner to keep the car. Many times the damage is not very great, but the costs to have a professional fix it are too high. But if you have the skills or access to less expensive repair options this type of project Mustang may be right up your alley.