1969-1970 Mustang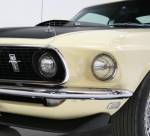 For 1969 Ford continued it's trend of major styling changes every 2 years. Just like the 1967 models increased in size to fit a larger engine, so did the 1969 model. In fact, the Mustang had never been offered in so many engine combinations; two 6 cylinders (200 cid & 250 cid), two 302's (standard and Boss), 351 Windsor, 351 Cleveland, 390, two 428's (CJ and SCJ) and finally the infamouse Boss 429.
Body styling changes resulted in the most aggressive Mustang yet, with a lower roof and more raked windsheild. Ford designers also gave a lot of styling attention to the fastback model, which was now called the
SportsRoof
. In addition to the standard 3 body styles; coupe, convertible and sportsroof, customers could also order styling and performance packages including the luxury
Grande
,
Mach 1
,
Boss 302
and
Boss 429
. Some of these models would become the quickest and most sought after Mustangs of all time.
» Convertible
» Coupe
» SportsRoof
| | |
| --- | --- |
| | |
No products matching your query have been found in our store. Please bookmark this page and come back soon to see if we have what you want.