1968 Gold Nugget Special Mustang (aka Golden Nugget Mustang)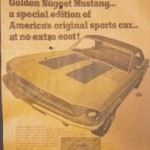 Limited edition Mustangs were never more plentiful than in 1967-68. Between factory created regional specials and dealer created oddities, the Mustang buyer of the late 60's had some interesting choices.
The 1968 Gold Nugget Special (also called Golden Nugget) was primarily a special paint color; Sunlit Gold with a black vinyl roof, black-out hood and black striping. The paint code was Y5 and the DSO is 74-1111, indicating Seattle and then 1111 for special order. There's rumor that these Gold Nugget Specials could also be painted other colors, as indicated by the window sticker below showing Corporate Yellow. However, this particular window sticker is a reproduction, not an original, so the facts aren't 100% conclusive on the issue of custom special paint. Note the newspaper ad below also talks about a dash plaque with the customer's name. Talk about a one-off Mustang!