1968 Cardinal Edition Mustang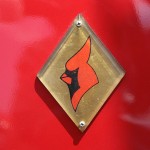 Yet another regional special, the Cardinal Edition (or Cardinal Special) was released to help spur sales in the North Carolina and Virginia markets.  What made this "special" special was primarily the Candy Apple Red paint and the unique diamond shaped emblem on the B pillar featuring a Cardinal head. Black C stripes were also included, creating a color scheme to match the Cardinal; state bird of Virginia.
This was a dealer created package, so these Mustangs didn't roll off the assembly line as Cardinal Specials. They arrived at the dealer in Candy Apple Red and the dealer then applied the emblem and marketed it. See the dealer's newspaper ad below for the other features of this classic Mustang. (Dig that crazy grammar of those 60's advertising execs at Ford!)
A vintage newspaper ad from March 22nd, 1968 reads:
"Look what you get in our specially priced Cardinal Edition Mustang. 200-cu. in. six, special emblems, flip open chromed gas cap, black interior, GT stripe, wheel lip moldings, special paint, wheel covers.

Limited number specially built for N.C. and VA only. First come, first save at your Ford Dealer's now!


As a starter, we took America's No. 1 sports car (the one that's also No. 1 in resale value) We added all the extra goodies listed the in the picture. And you can have it even jazzier than that via a long, long list of options we're offering. All this and a very special low price, too! Hurry...they won't last long!"
Although not listed in the dealer ad, several Cardinal Specials also have round fog light and a few have been said to have V8 engines instead of the 200 cid T-code six cylinder listed. As with most dealer specials it's hard to determine exactly what rolled off the lot. If a customer came in and said he wanted a Cardinal Special, but with a V8 the salesman probably didn't hesitate to slap some CS emblems on a non-six cylinder car.
Since this was a dealer created package, there aren't any special DSO's or paint codes like other factory specials. The DSO would be 25, which would have been shared by any Mustang destined for the Richmond, VA area. Likewise, the Candyapple Red color was a stock Mustang color in 1968. Even a Marti report won't prove a real Cardinal Special since it was a package created at the dealership.