1967 "Stallion" Edition Mustang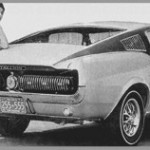 Not all of the special edition Mustangs came from the factory. Sometimes the dealerships took matters into their own hands and came up with some pretty unusual ponies.  Take Mainway Ford in Toronto Canada for instance. They created the Mustang "Stallion" as a high performance muscle car obviously catered to the young male buyer. These classic Mustangs were fastbacks only, and highly optioned ones at that. Under the hood was either a K-code hipo 289 or the new for '67 big block S-code 390 GT engine. Transmission choices were the 4 speed manual or C6 automatic transmission. Also included on the Stallion were the heavy duty suspension package, power disc brakes, tach, posi-traction rear, styled steel wheels, upgraded Deluxe interior (including special woven seat covers) and special metallic paint.
But wait, there's more! The most striking feature (in a good way or bad, you decide) was the pair of Cougar rear tail lights. The wide horizontal tail lights weren't exactly ground breaking, being previously seen on the Shelby and later on the California Specials, but the vertical ribs of the Cougar tail light housings mated to the aggressive Mustang fastback rear lines definitely gave a new look. To draw even more attention to the rear end, it was blacked out and a "STALLION" badge was attached to the center above the gas cap, which was also custom and featured a rearing horse engraving.
Continuing with the "blackout" treatment a unique black vinyl trim was added along both sides, basically following the long trailing swoop of the fastback shape. The factory simulated side scoop pieces were also chromed to finish off the exterior look.