1967 Lone Star Limited Mustang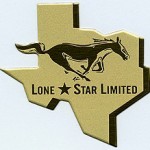 1967 was a big year for limited edition Mustangs. Ford was riding the wave of success coming off the record setting sales of the 1965-1966 Mustang and individual sales districts wanted to keep that momentum going. Like the High Country Special and Ski Country Special created for the Denver sales district, the state of Texas didn't want to be outdone and created their own unique classic Mustang.
So started the Lone Star Limited. A total of 175 '67 Mustang Coupes were sent to the Dallas area Ford dealerships. They had special paint (Bluebonnet Blue to match the state flower), blue standard interiors and brass fender emblems featuring the Mustang running horse inside the shape of Texas. The Lone Star Limiteds also wore all the elements of the Sports Sprint package, including chrome rocker panel molding, wheel covers, chrome air cleaner, louvered turn signal hood (a feature made standard the next year on all 1968 Mustangs) vinyl covered automatic shifter handle and F70-14 wide oval tires.
Identification: Like the High Country Specials and Ski Country Specials, the special paint helps verify these cars today. Look for a 6 digit DSO (615160) on the door data plate. The first 2 digits will be 61 for Dallas DSO and the next 4 digits indicate the special order paint (5160)