1966 Ford Mustang Shelby GT350H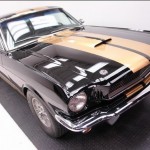 You don't see a pristine example of a Classic Mustang for sale like this very often. Check out this gorgeous Shelby GT350H Hertz Rental - View Auction
I recall stories told of sailors in the late 60's coming in to port in San Diego or San Francisco and pooling their money together to "rent-a-racer" at Hertz. They'd pull that Shelby out of the Hertz rental parking lot, drive down to the local drag strip, swap out the rear tires for slicks and have a night of it!
This beautiful Shelby GT350H was originally delivered in December 1965 to JD Ball Ford in Miami.  It came equipped with the Hertz Special Wheels, Radio, & Brake Booster. With delivery and inspection, the total invoice price to Hertz was a whopping $3,887.45. After a little over a year with Hertz, the car came back to JD Ball Ford and was subsequently sold.  JD Ball purchased it from Hertz for $2,800.

The car is pretty much spotless and will disappoint absolutely no one.  Everything on the car can best be described as "as new".  The photographs give a very good representation of this classic mustang but if you have any special requests or particular questions, do not hesitate to call me.

This car will not last long so call anytime! We welcome any pre-buy inspections before purchase and offer free airport pick-up from either Dallas Love Field or DFW International Airport. Affordable bonded and insured shipping is available. Please call Jimmy anytime with any additional questions at 214-893-7812 or send an email to jimmy@ myebaycar.com. Thank You for visiting another Straight Line Automotive Group Auction exclusively on eBay As a courtesy to our customers, please arrange an appointment if you wish to visit Straight Line Automotive Group's physical location.