1971-1973 Mustang Coupe for sale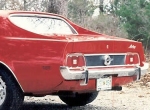 For 1971-73 the coupe was the base body style and retailed for $2,911 when ordered with the 250 cid six-cylinder. The vast majority though had the 302-2v engine, accounting for over 55,000 of the 83,000+ coupes ordered in 1971.
But the coupe could also be upgraded to almost any engine, making for a serious sleeper; like any of the 86 coupes with 429 Cobra Jets boasting 375 hp. Order the Drag Pack option and your Cobra Jet became a Super Cobra Jet. Unfortunately 1971 was the last year for the 49 CJ. But the R code 351-4V HO offered in 1972 wasn't exactly a slouch. Of course they all got terrible gas mileage, especially with the heavier 1971-73 models. But then again, when gas only cost $0.30 a gallon, fuel economy wasn't exactly the highest priority.
» Convertible
» Coupe
» Fastback