1971-1973 Mustang Convertible for sale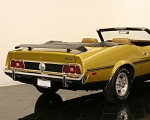 Convertible sales were in steady decline since the introduction of the Mustang and the 1971-73 generation represented the last of the breed for a while. After 1973 the convertible body style was dropped, which may have accounted for the uptick in buyers that year for a total of almost 12,000 units sold. This as compared to 6,400 in 1972 and 6,100 in 1971.
True to it's heritage buyers could still pick from a large list of options in 1971, including power front disc brakes, power windows, power steering, AM/FM radio, deluxe interior, rear window defroster, front & rear bumper guards, tinted windows and vinyle roof (coupe only).
» Convertible
» Coupe
» Fastback