1969-1970 Mustang Sportsroof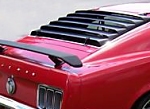 New for 1969-1970 was the Sportroof model. This was the new name for the Fastback of previous years. The Muscle car wars were heating up and Ford responded with more agressive styling. The muscular new Sportsroof certainly fit that bill and became the platform for some of the hottest performance Mustangs ever.
Roughly half the Sportsroofs came with the new Mach 1 package, combining luxury and performance. The Boss 320 and Boss 429 also were available only in the Sportsroof body style. The wider body also meant a wider engine bay which Ford took full advantage of with it's big block offerings including the 390, 428 CJ, 428 SCJ and finally the amazing Boss 429.
» Convertible
» Coupe
» SportsRoof