1969-1970 Mustang Coupe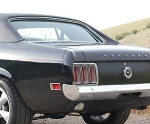 In 1969 & 1970 the Coupe (or Hardtop) remained the basic body style and continued to outsell the more expensive Sportsroof and Convertible, although it didn't dominate like in earlier years. In 1969 there were 150,637 coupes sold, but the Sportsroof was a close second with 133,801 sold. In 1970 overall production was way down with 96,151 coupes and 87,551 Sportsroofs.
Exterior paint colors for 1969-1970 included Acapulco Blue, Aztec Aqua, Black Jade, Calypso Coral, Candy Apple Red, Champagne Gold, Gulfstream Aqua, Indian Fire Red, Lime Gold, Meadowlark Yellow, New Lime, Pastel Gray, Raven Black, Royal Maroon, Silver Jade, Wimbledon White and Winter Blue.
» Convertible
» Coupe
» SportsRoof