1967 & 1968 Mustang Fastback

When the Mustang was re-designed in 1967 the fastback too became more muscular as compared to previous years. In general production numbers were down from the phenomenal sales in the introduction years of 1965-66. But fastback sales were still strong. In 1967 over 71,000 were made, accounting for 15% of total production. 1968 took a dip to just over 42,000 fastbacks making them more rare today.
One of the reasons for the wider body style re-design in 1967 was to shoehorn in Ford's big block engines to compete with the likes of Camaro and Firebird. Topping the 1967 engine choices was the
S code 390 4bbl
, although many reviews said the potent
289 HiPo K code
was still the better choice. The 390 made the Mustang nose heavy, so a stiffer suspension package was available to help handling.
Then in mid-year of 1968 Ford added the
428 CJ
and a legend was born. Still heavy, but more powerful it certainly held it's own. Another new offering for 1968 was the 302, available in 2bbl or 4 bbl versions. Perhaps one of the rarest engines was the little known
X code 390 2bbl
available only in 1968. Not many buyers opted for this in 1968 and only around 730 were sold.
» Convertible
» Coupe
» Fastback
| | |
| --- | --- |
| | |
The Eleanor Mustang Craze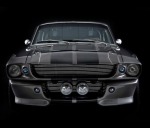 Ever since the film "Gone in 60 Seconds" the craze for the "Eleanor Mustang" has been huge. The movie starred Nicolas Cage, but many argue it was the 1967 Mustang fastback that stole the show.
In the movie it was supposed to be a 1967 GT-500 Shelby that Cage, a retired car thief was forced into stealing. Of course, true to Hollywood it wasn't a real Shelby, but several "stunt" 1967 Mustang fastbacks dressed up to look like Shelbys. But not just Shelbys. Eleanor had quite a bit of extra flair including exagerated ground effects and body kit.