1967 & 1968 Mustang Coupe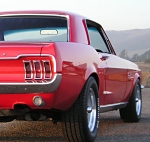 In 1967 & 1968 the Coupe body style was still the king of sales, proving that buyers were still looking for a fun, sporty car, but with economy in mind. That's not to say all coupe buyers opted for the smaller, less expensive engines. In 1968 just over 200 coupes were sold with the tire smoking
428 Cobra Jet
power plant. Talk about your sleeper car and an extremely rare and desirable find today! Overall production was 356,000 coupes in 1967 followed by almost 250,000 in 1968.
The coupe was also a great platform for Ford to try out some limited editions and bump up sales. Special editions for 1967 & 1968 included the
High Country Special
,
California Special
,
Gold Nugget Special
,
Cardinal Special
,
Branded Mustang
and
Color of the Month
cars.
» Convertible
» Coupe
» Fastback