1967 & 1968 Mustang Convertible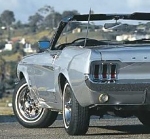 With the new, beefier body style 1967-68 the convertible was still a head turner. Overall Mustang production was down with competing muscle cars finally playing catchup, and the convertibles for 1967 & 1968 accounted for less then 10% of the total production.
Factory options included power front disc brakes, GT Equipment Group, Power Steering, Air Conditioning, Power Convertible Top, AM/FM or AM with tape system, Vinyl Roof, Deluxe Interior, Luggage Rack on trunk, Tinted Glass, Bench or Bucket Seats and full center console.
1968 saw some federally mandated safety changes to the Mustang including side marker lights, energy-absorbing steering column and instrument cluster, retractable seat belts, padded dash, dual circuit brake system and double thick laminated windshield.
» Convertible
» Coupe
» Fastback