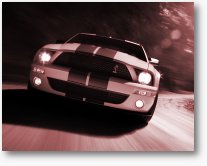 Welcome to AllStangs.com!
This site is designed for you, the Mustang enthusiast. Whether you're looking for late model or classic Mustangs for sale or have a restoration project and need parts, this site was designed to gather and organize thousands of used Mustangs at auction on eBay, the leading internet marketplace. Browse through the different categories to find Mustangs for sale and don't forget to read the blog for great tips on how to buy a used Mustang!
The initial phenomenal success of the Mustang has ebbed and flowed over the last 50 years, but continues stronger today then ever. Loyal owners still love to customize their favorite sports car and Ford continues the popular limited editions. Late model packages include the new Shelby, Bullit, GT/CS, Boss, SVT Cobra, Mach 1 and others. Aftermarket companies have also joined the fray with high performance offerings from
Saleen
and
Roush
. Scroll down for more
Mustang history
...
Ford Mustang History

From its inception in 1964, cruising down the track as the official Indianapolis 500 Pace Car, the Ford Mustang took the market by storm. Surprising even the marketing team, Ford sold over 1.2 million cars in its first two years. It was sporty, affordable and greatly customizable. Buyers could personalize their new Pony Car with a list of options that read like a menu. Choices included three body styles; coupe, convertible and fastback, a range of engines, and transmissions, numerous paint colors and add-on options galore. Ford further cultivated the individuality of the Mustang by introducing special limited editions that grabbed the public's attention & promoted Mustang sales. Most notable was the Shelby GT-350 & GT-500, but there was also the Boss 302, Boss 429, Boss 351,
California Special
, Mach 1, GT, Sprint and 428 Cobra Jet among others.
It's this individuality that keeps the Ford Mustang as popular today as it was when first introduced. Used Mustangs are still a great buy, both for daily transportation or full restoration and show. Enjoy browsing our listings ranging from project Mustangs to late model and performance Mustangs for sale.
Good luck and happy bidding!